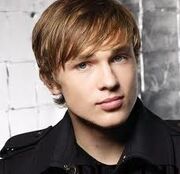 Adam McKinnon is a Gryffindor at Hogwarts school.  He plays Keeper for the Gryffindor Quidditch team.  He has an older sister named Audrey Mckinnon, another sister named Felicity, and a sister named Sarah, who was a member of the organization Magic for Peace, who was murdered on November 2nd, 1976 during an attack on the organization by Death Eaters.  He has a younger sister named Frances and a younger brother named Donald. He was nicknamed "Number Five" by the Marauders, as he was not a Marauder and the fifth in their dormitory.
He was close friends with Marlene Price , who shares his music taste.  After a long kinship he confessed to being in love with her, but she turned him down.
The summer before seventh year he began a relationship with Prudence Daly, who he met at his sister's wedding.
Adam McKinnon and Marlene kissed while Adam was still dating Prudence, leading to substantial confusion about Adam and Marlene's relationship.