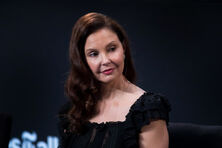 Grace Potter
is the wife of
Alexander Potter
—whom she was briefly seperated from but eventually moved back in with—and the mother to
James Potter
. She is well into her years, but is still adamantly fighting for justice as a prominent member of
Magic for Peace
. Her son, James, appears to be closer to her than his father—that, or, he perfers to spend time with her.
There was a brief scare that she was killed when the Death Eaters arrived at a M.F.P meeting, but she later proved to be alive and well.
Canon Divergence
Edit
While James must've had a mother, the character of Grace Potter was entirely created by Jewels5. JK Rowling, author of Harry Potter revealed in a pottermore post the name of James mother was Euphimia. This information was not availabe to Jewels5 at the time.